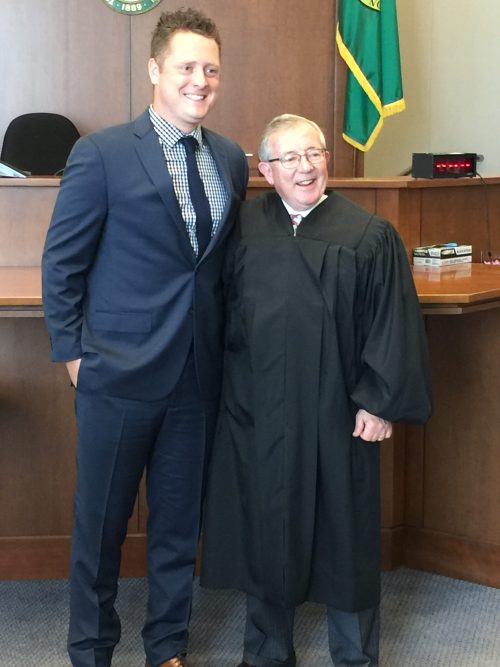 Having successfully passed the bar exam, Connor Rankin was sworn in yesterday during a ceremony at the Norm Maleng Regional Justice Center. The ceremony was presided over by Judge Richard F. McDermott. Connor, who graduated in the spring from Seattle University School of Law, will begin practicing at ELM upon receiving his bar license.
The event was especially meaningful since Connor served as an intern for Judge McDermott in the fall of 2016. Also attending the swearing-in were ELM's managing partner, Lana Floyd, the firm's business manager, John Battin, and Connor's wife, Christy.
Connor is a Northwest native who currently lives on the Eastside with his wife and two children, ages 2 and 1. He grew up in the Seattle area and earned his undergraduate degree at Northwest Nazarene University in Idaho.
While in college, Connor played catcher on the school's baseball team. Even now, as he enters the legal profession, sports are still a big part of his life. He's a devoted fan of the Mariners and Huskies.
We at ELM are thrilled to have Connor joining the team. If you're at our office and run into Connor, be sure to congratulate him!